CU-YTHPomPomPullTEAL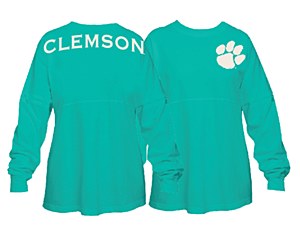 Product Lookup Code:
0755568697505
CU-YTHPomPomPullTEAL YLG
Description
Clemson Tigers Pom Pom Pullover on TEAL Color. With athletic stripes and an oversized fit, the Pom Pom Pullover
is the perfect way to show your team spirit!!!
* 6.6 oz. 100% Cotton Jersey
* Double Athletic Stripes on Sleeves
* Garment-Dyed for Vintage Feel
* Roomy, Unisex Feel
* Adult XS-2X
* Youth YS-YL
Retail price $46.99
REDUCED WEB PRICE $42.99
Reviews
Customer Reviews
This product has not yet been reviewed.